Learn Mandarin

3 Times Faster

With

Our In-house Developed
Fun Fun Mandarin Curriculum

Learn Mandarin naturally & retain information in long-term memory.
Fun and easy
to learn Mandarin
Fit all learning styles and individual needs.
Systematical, practical, interactive
Increase spoken practice by 200-300% compared to traditional Chinese textbooks.
Learn Mandarin anywhere, anytime
Suitable for learning Mandarin online, in-person classes, and in self-paced learning.
All learners engage in fun, collaborative learning, sharing diverse cultures and values with global users.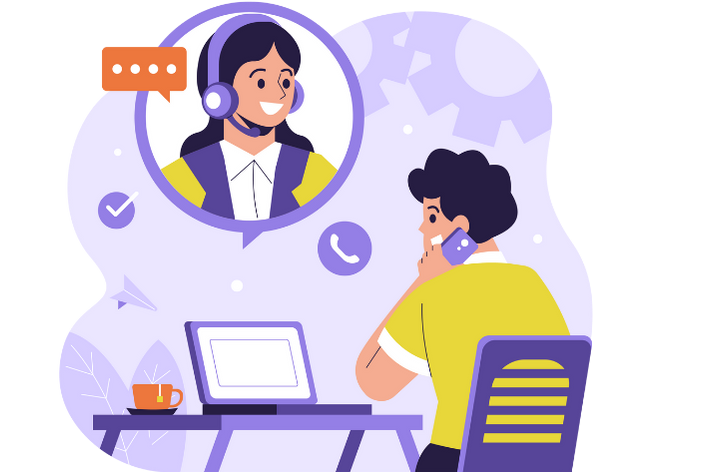 Get Your Free Mandarin Class
Value $200. Take the first step towards rapidly growing your Chinese Skills.

You Can Learn More Effectively If You Interact With Classmates
Your Brain works 10x faster and remembers better if you apply multiple areas in the brain at the same time.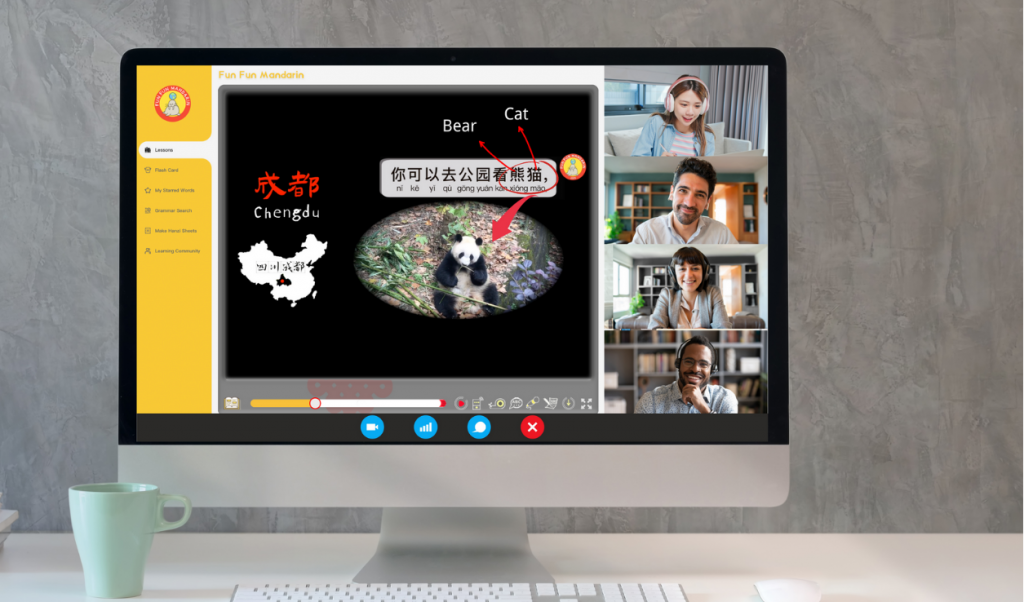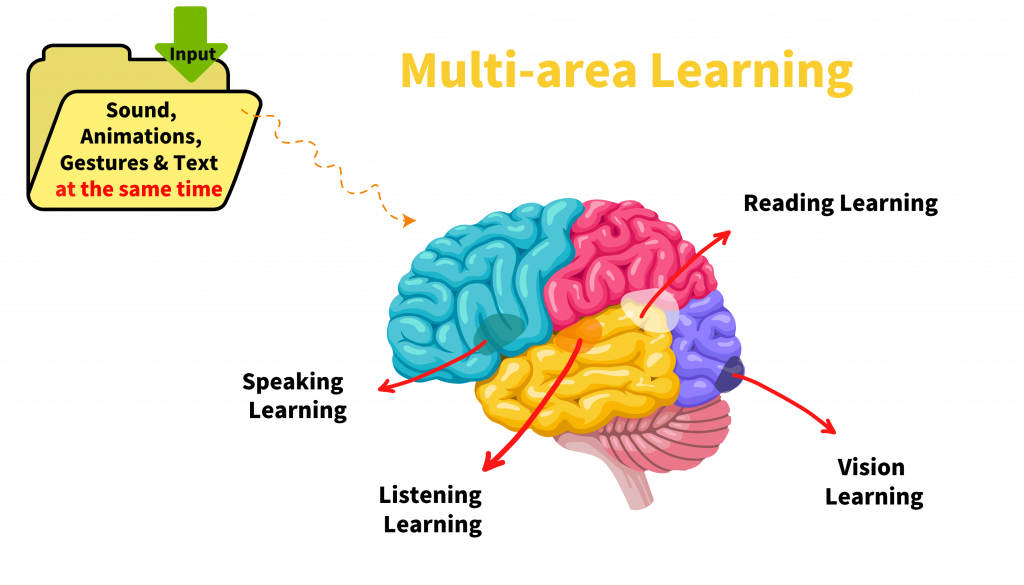 Teachers teach vocabulary and grammar in the video context. Get richness of input by watching videos.
Students start to speak Chinese sentences from the first day of class and imitate pronunciation.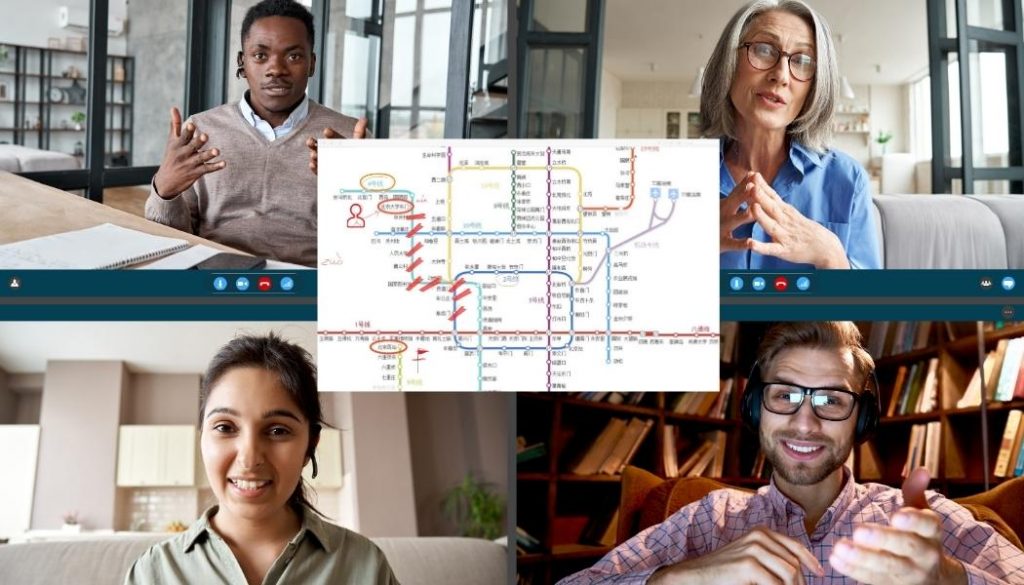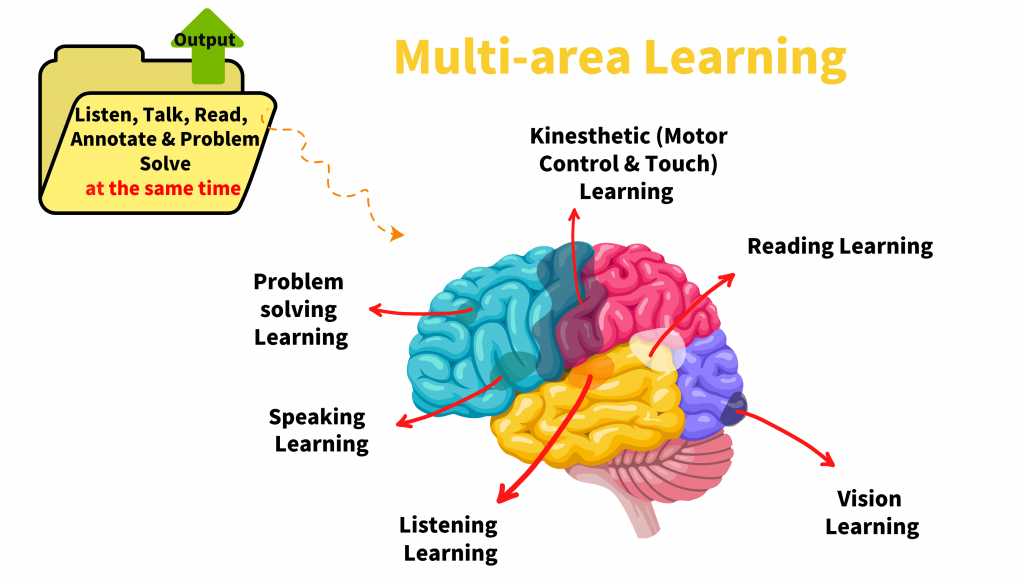 Apply Knowledge With Classmates/Teachers
Make output more effective by engaging in breakout room games, annotating authentic materials.

80% of class time is for you to practice speaking conversational Chinese.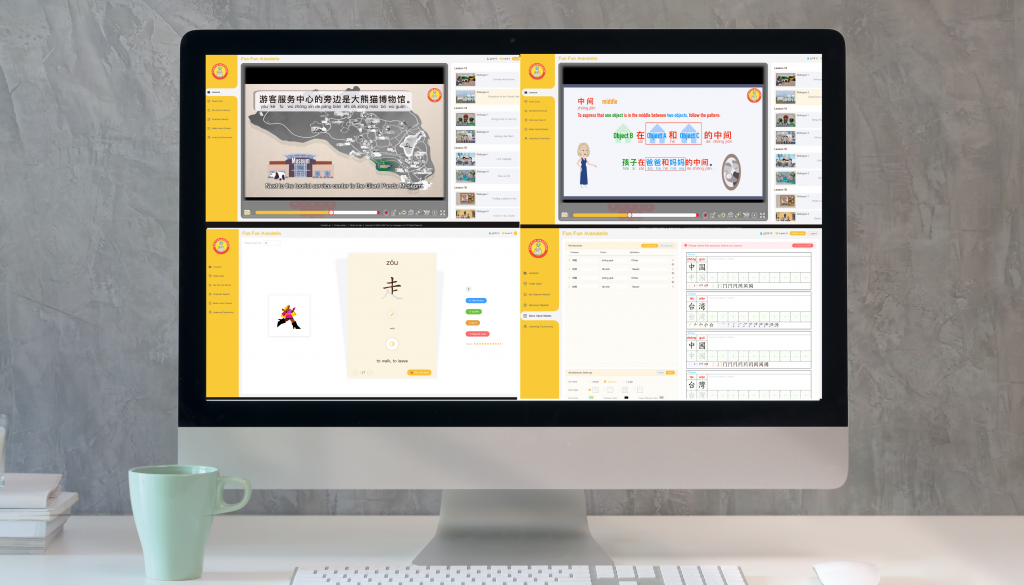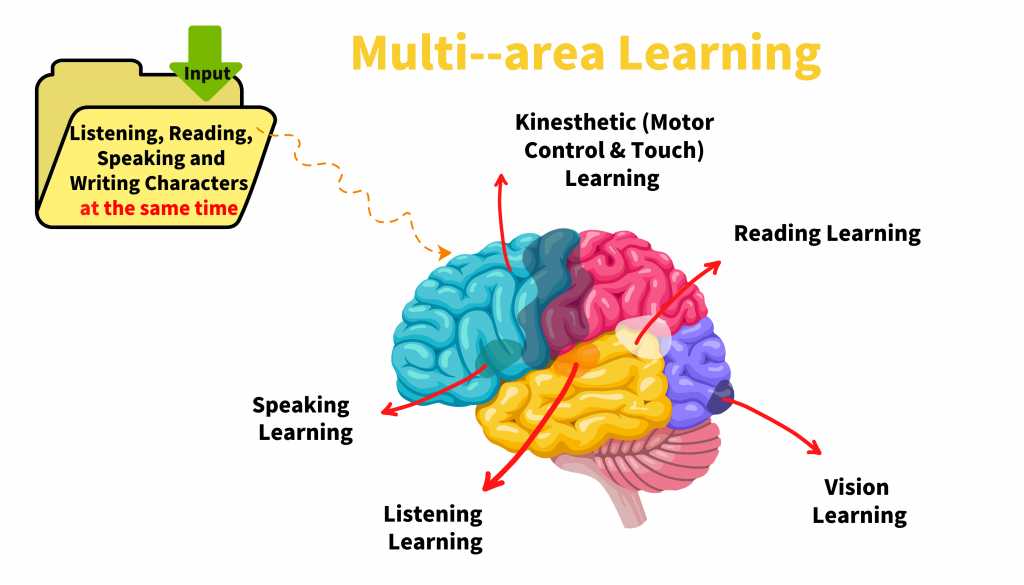 Multi-dimensional Learning Outside Of Class
Learn Mandarin through videos, smart flash cards, making character sheets and interactive AI testing.
Remember better by combining different types of learning input, from visual to audio to text.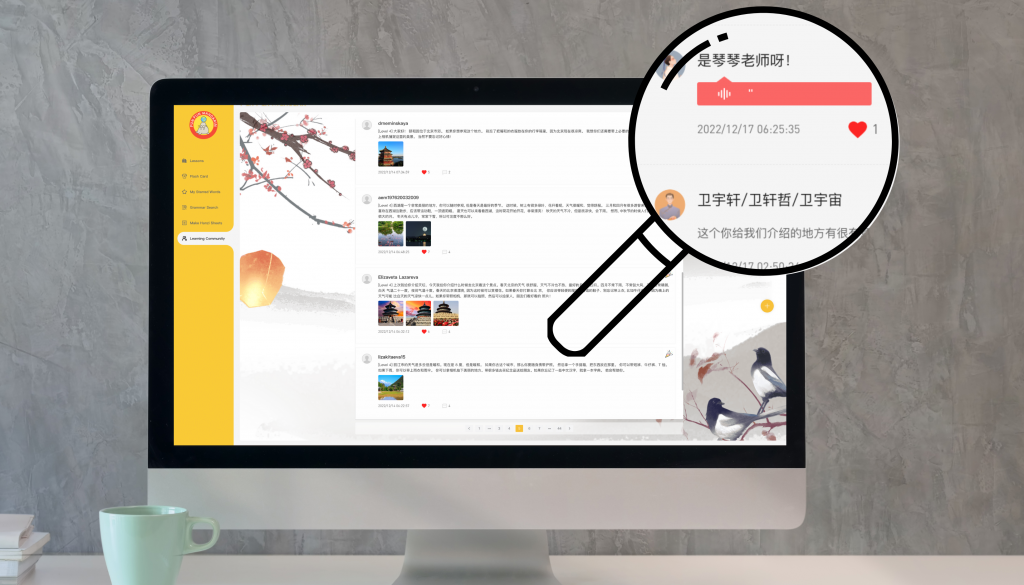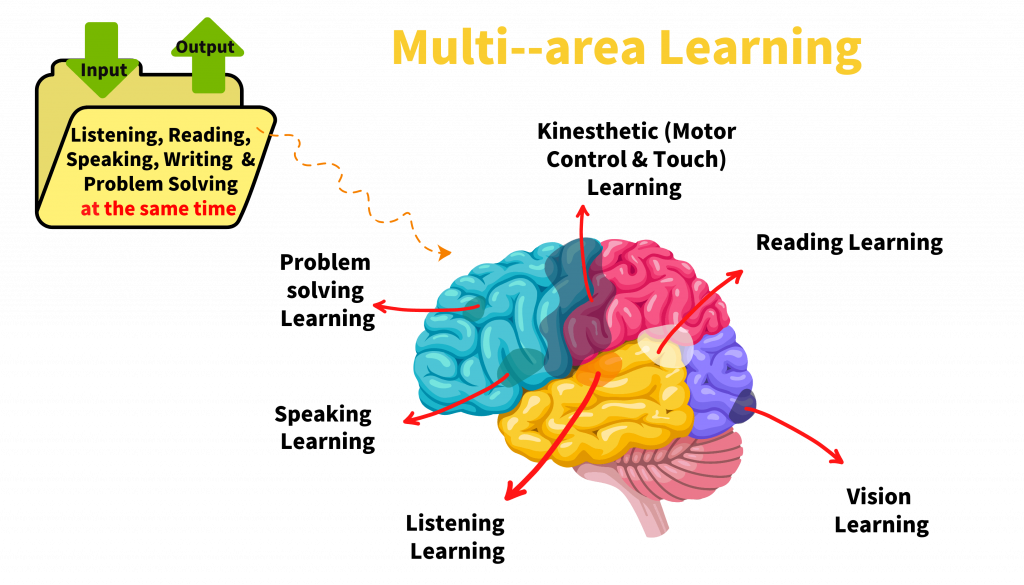 Be motivated In Learning Community
See others' work and receive real-time feedback. Interact with native speakers and schoolmates.
Remember longer by combining Input and Output. Accelerate Chinese learning. 
What do
Specialists & Students

say about Our Curriculum

?

I like studying with Fun Fun Mandarin since I can practice with my Facebook classmates and my teacher. In the last year, I have learned so much and although I still need to learn so many things, I was able to order food in Chinese by myself. I look forward to learning more with Fun Fun Mandarin.
★★★★★
[video_popup url="https://www.youtube.com/watch?v=yZU0a60S60k" text="Play Video(Spanish Language)"]
Fun Fun Mandarin is a great way to kickstart for beginners. I definitely did not think I would be learning Mandarin so quickly, in such a fun way, and with lots of storylines and context. I feel like the tools of the textbook have accelerated my learning in all categories: Listening, Speaking, Reading, Writing and Culture learning.
★★★★★
Fun Fun Mandarin is a unique platform whereby it breaks the traditional rules of learning languages through textbooks. It is effective in a way that it is engaging and interactive. I've been learning on this platform for 4 months and the progress has spiked incredibly. I'm able to apply everything that I've learned in my daily life. I definitely enjoyed my learning journey with the help of this platform. Mandarin comes alive at Fun Fun Mandarin !
★★★★★
[video_popup url="https://www.youtube.com/watch?v=_oqK1BDpMx4" text="Play Video (Russian Language)"]
It's easy to use and expertly combines the latest technology (AI pronunciation checking!) with well thought out design. The vocabulary and grammar progression across the lessons is carefully planned and the story line keeps your attention. Color coding helps you to understand the grammar, and it uses innovative techniques like the video dubbing activity to help you practice. Very impressive!​
★★★★★
The best part about Fun Fun Mandarin is all of the different ways it comes together to really tackle any of your learning capabilities and however you prefer to learn, to make a really layered language actually accessible and fun to learn. I'm a visual learner so it really helps that they have animated videos that show real-world examples of when you would be using the vocabulary. The videos that break down the grammar are super helpful, and then the flash cards where you can just actually tap through them in the program itself is really helpful. I actually feel more confident in my ability to speak with native speakers. Fun Fun Mandarin makes it seem a lot easier.
★★★★★
[video_popup url="https://www.youtube.com/watch?v=szLY2JMa5W0" text="Play Video (English Language)"]
I've been using fun fun mandarin for over a year now. Things I like about FFM are the vocabulary flash cards. They're really easy to help you study. Also the two characters in the animation videos are really fun and interesting, and they help you to remember a lot of phrases in Chinese. I never thought that I could learn a second language. I studied French in high school and Italian in college but I could never have a conversation with anybody in those languages. After only a year of using FFM I feel like I could have a conversation with someone in Chinese. I recommend Fun Fun Mandarin.
★★★★★
[video_popup url="https://www.youtube.com/watch?v=sSQ0YrlUTnU" text="Play Video (English Language)"]
I have been learning Chinese using Fun Fun Mandarin. It is an excellent tool for studying Chinese, especially for beginners. Since my college Chinese class is hybrid, I used this platform for self-studying, including speaking, pronunciations, writing characters, learning grammar and lessons, and practicing vocabulary and homework questions. Fun Fun Mandarin is a well-organized platform, and its contents are wealthy. I really wanted to tell people that animated lessons are valuable for online learning. The reason why is I could actually see the situation of how and when I can use that particular Chinese. Also, when I had questions about vocabulary and grammar, there was a search engine and explanation video. Therefore, I did not need to spend lots of time finding what I was looking for. I think that is a beneficial tool for users. I've never studied Chinese before, but now I have much confidence to speak and use Chinese because of Fun Fun Mandarin!
★★★★★
[video_popup url="https://youtu.be/FYgX4i3Xg8o" text="Play Video (Japanese Language)"]
My college professor adopted this video-textbook. I learn Chinese through Fun Fun Mandarin. It is a really special platform. It offers a lot of exciting, practical learning videos with scientific software learning tools. The AI technology helps me learn Chinese pronunciation correctly. Fun Fun Mandarin's grammar videos explain clearly and are easy to understand. It helps beginners to communicate with native speakers quickly. If anyone wants to learn the Chinese language, I strongly recommend using Fun Fun Mandarin!
★★★★★
[video_popup url="https://www.youtube.com/watch?v=vQZ1wkkbW_U&t=1s" text="Play Video (Vietnamese Language)"]
Fun Fun Mandarin is a well-designed and developed course. As the main body of the course, the content of the video-book is vivid and very modern. Learners can choose a variety of video modes for enjoyable and immersive learning. The intelligent new vocabulary card, stroke order animation, original Chinese character grid design, and supporting workbooks provided in the course not only provide effective support for students' independent learning, promote the rapid improvement of comprehensive listening, speaking, reading, and writing skills, but also facilitate teachers to achieve immersive learning, flipped classroom, and differentiated teaching. It greatly saves teachers' preparation time and greatly improves teaching efficiency.​
★★★★★
[video_popup url="https://www.youtube.com/watch?v=Xc3swmcl-T8&t=1s" text="Play Video (Chinese Language)"]
As the first private Chinese teaching and cultural dissemination center in the Principality of Andorra, "innovation" and "student-centered learning" are the tenets of our school. Before I found Fun Fun Mandarin , I used traditional teaching materials, exhausted all kinds of teaching methods, and prepared lessons day and night, students memorized by rote, but still could not show their interest in learning Chinese. I can't get rid of the curse of "learning Chinese is difficult". The intelligent design of Fun Fun Mandarin fully solves the problem that we have. Since my school fully adopt to use of Fun Fun Mandarin as our textbook, students can easily communicate with native speakers, read and write, some students can even reach HSK level 4 within a year, which greatly improves students' sense of achievement in learning Chinese. Curriculum content relates to current real China life. It helps students understand Chinese culture and modern Chinese social life. For students, learning Chinese has become a very relaxing and happy thing.
★★★★★
[video_popup url="https://www.youtube.com/watch?v=hpQ2yh_8zRg&t=1s" text="Play Video (French Language)"]
I am a high school Chinese teacher in New Jersey, USA. The first impression was that this video teaching material is very intuitive, so I decided to use it as the teaching material for Chinese I and II in our school. It's been nearly a year so far, and my students' feedback is that they like video conversations very much. On the one hand, it's easy and fun, and on the other hand, they can use their own time after class to practice conversations. Students can also build their own vocabulary for review later. As a teacher, I use the prepared handouts and PPT to explain vocabulary, etc. in class, which saves me a lot of preparation time. Another feature that I really like is that students can dub the video dialogue, which greatly improves their opportunities for oral practice and expression. The textbook is also equipped with customized new word writing forms, teachers and students can make suitable new word writing forms according to their needs. There are few textbooks like Fun Fun Mandarin on the market. It's the textbook I've always wanted but couldn't find!​
★★★★★
[video_popup url="https://www.youtube.com/watch?v=UwdY52mvt1Y&t=1s" text="Play Video (English Language)"]
Fun Fun Mandarin's grammar videos are particularly useful, not only concisely explaining using appropriate examples, but also with animations. With it to assist Chinese teaching, you can achieve twice the result with half the effort. Without the teacher's extra effort, students can easily understand. With some exercises, students can quickly master the grammar points and they are impressed and do not forget for a long time. Fun Fun Mandarin's dialogue videos are also very close to life. The content is authentic and practical. It can also be easily matched with the current teaching materials. Fun Fun Mandarin's related dialogue videos are very suitable for oral practice, especially its dubbing function. Students watch the subtitles while dubbing the characters, which not only exercises their oral skills, but also improves their ability to recognize and read Chinese characters. Fun Fun Mandarin is a treasure house of powerful functions. I hope Chinese teachers and learners can use it!​
★★★★★
[video_popup url="https://www.youtube.com/watch?v=cS5ryK1ZSgo" text="Play Video (Chinese Language)"]


Mandarin Classes Near Me: Chinese Online Class